Visa Business
Personal

Loans and Credit

Credit Cards

Visa Business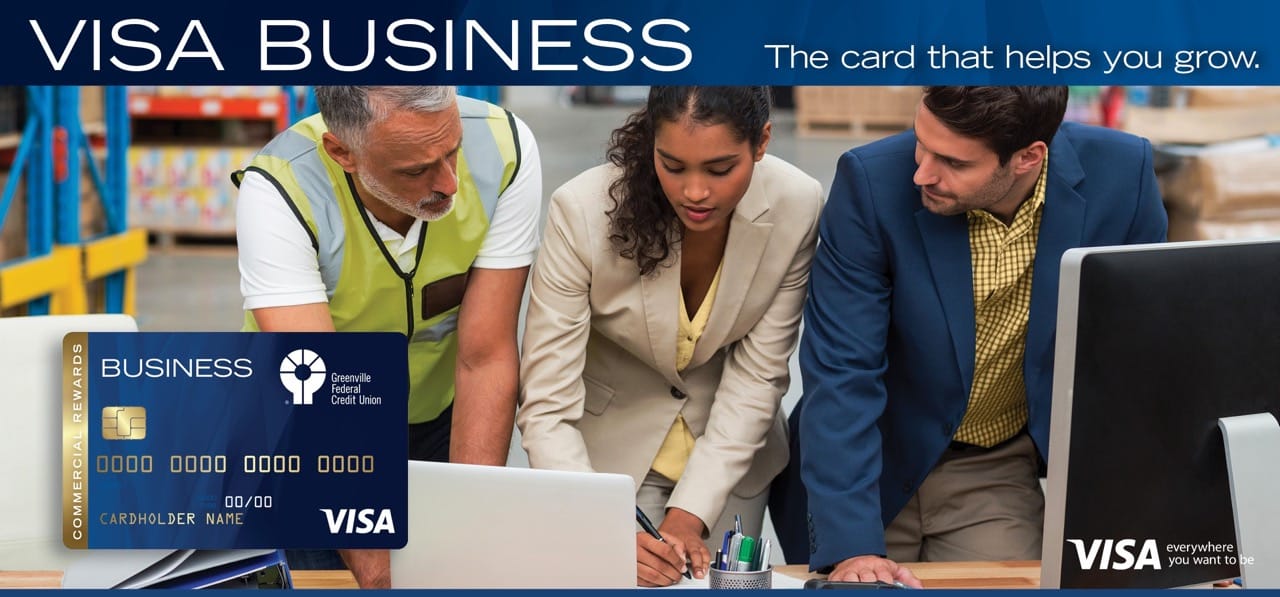 Visa® Business: The card that helps you grow.
With points on every purchase, a great rate, and no annual fee, your Greenville Federal Credit Union Visa® Business card makes earning rewards easy. Your new card is accepted worldwide. Use it everywhere and every way you pay — online, in the store, with clients at dinner. Every time you use your card for purchases1 you earn points redeemable for cash, merchandise, travel, or donations to local charities.
No annual fee
Points to cash option
Visa's Zero Liability policy2
Free balance transfer3


Learn more about Visa Business.
Visit any branch or call our Contact Center to learn about how to become a Commercial member, apply for a Visa Business credit card or explore any of our Commercial Services loan options.
1Certain restrictions, limitations, and exclusions apply. Refer to full program terms and conditions to confirm specific coverage levels. 2Visa's Zero Liability policy does not apply to unauthorized transactions on prepaid cards for which the issuing financial institution has not collected the cardholder's personal information prior to the transaction or to certain commercial card transactions. Cardholders must use care in protecting their card and notify their financial institution immediately of any unauthorized use. Cardholders should contact their issuing financial institution for additional details. 3This free service allows the credit union to process balance transfer requests to your Visa Business card. For security purposes, cardholders will be required to go through an authentication/verification process before a balance consolidation is processed. Balance transfers do not earn points.
Request information.
Greenville Federal Credit Union offers a variety of lending products that can give your business the capital and flexibility to grow. You can request additional information about our loan services by submitting this form.


---
---