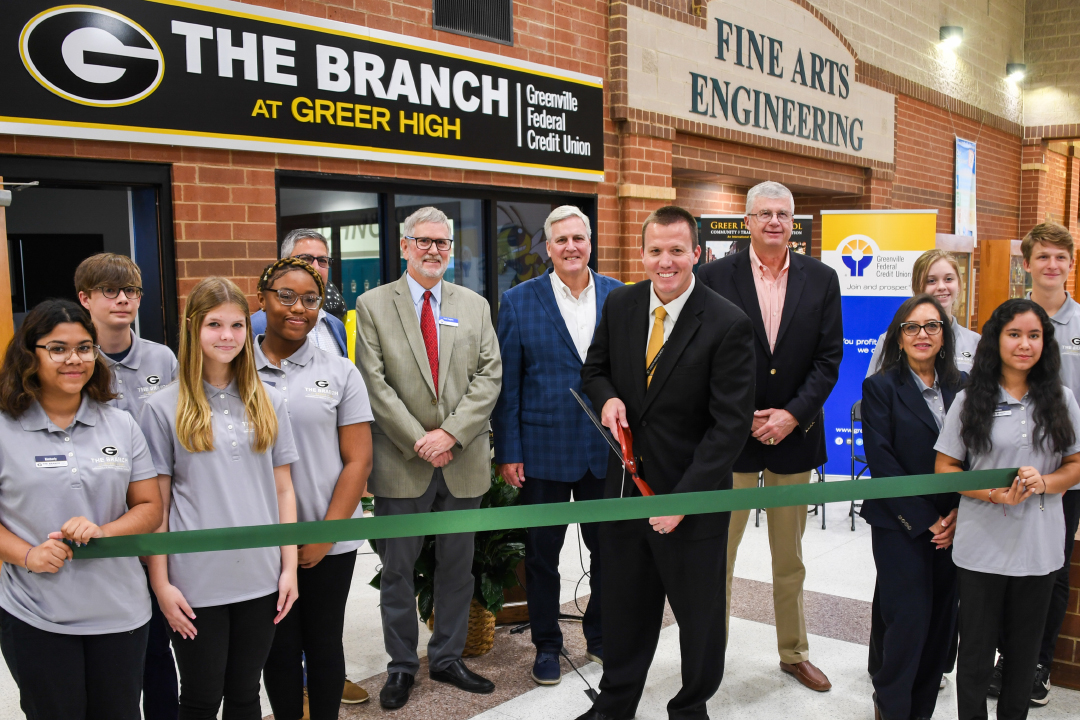 Greer High School and Greenville Federal Credit Union held a ribbon-cutting ceremony on September 1, 2023, marking the opening of the second student-run branch in Greenville County Schools.
The Branch at Greer High brings real-world financial literacy and education into the school and allows students to gain real-life experience and preparation both for college and future careers as outlined in the District's Graduation Plus (external link) initiative.
"This program represents the embodiment of our commitment to ensuring our students have opportunities to develop the skills and characteristics needed to be college- and career-ready. We are proud to offer them an environment in which they can expand upon their knowledge and skills while working in a professional business setting within their school. An important part of industry certification and job preparation is hands-on and real-world experience. We commend these students for taking advantage of this opportunity while also learning and modeling financial responsibility for the entire school community," said Dr. Burke Royster, Superintendent of Greenville County Schools.
"We are excited to present our newest high school branch to the Greer community," said Paul Hughes, Greenville Federal Credit Union President. "We believe the financial and career skills students gain from this program will benefit them well beyond graduation. From the beginning, our hope has always been to offer this experience to more students by extending the high school branch program to additional schools in the district. Greer High was the perfect second location, and we're proud to join the Yellow Jackets."
Greer High and Greenville Federal Credit Union selected seven students to work alongside teacher, Ms. Merilys Rivera-Vega, leading the student-run branch.
Jaidyn Watson, Student Specialist Auditor with The Branch at Greer High, shared with those in attendance that "to prepare for our roles, each of us completed a 100-hour paid internship with Greenville Federal Credit Union this summer, which included in-classroom and on-the-job training alongside credit union professionals. As part of our honors curriculum, not only are we learning about budgeting and finance, but we get to share our knowledge with other classes as we present on topics such as Fraud Prevention, Understanding Credit, and Money Management 101. All these activities and experiences will help us develop life and career skills that will benefit us the rest of our lives".
Greer High Principal Justin Ludley shared, "Our students are already demonstrating their professional skills in the workplace here at The Branch. This is attributed to the hard work and excellent training which they have received from both Greenville Federal Credit Union and their teacher, Ms. Rivera-Vega. We are excited at what lies ahead for The Branch at Greer High."
"For these students, this opportunity is more than learning about finances, it's about relationships," said Greer Mayor Rick Danner. "These skills will aid you in your future careers as you learn about working with people and the ability to build trust in business relationships".
"What a great opportunity you have here at The Branch at Greer High. I commend you for what you are doing here. This is something we embrace as a business community and will greatly enhance the opportunities granted to the students of Greer," said Greer Chamber of Commerce President David Merhib.
The Branch at Greer High offers students, faculty, and staff access to financial services such as savings and checking accounts, debit cards, and online banking. Students enrolled in the work-based learning program earn Honors-level course credit and a paid internship. The hands-on experience will not only help students develop leadership, marketing and organizational skills, it will help them stand out in the job market upon graduation. The students received in-depth training during the summer that prepared them for opening and operating The Branch.
The student-run branch is not open to the general public. Students, faculty and staff have daily access to the financial services provided by The Branch at Greer High during the lunch periods at school. The public has the opportunity to select a special Greer High Yellow Jackets debit card at their local Greenville Federal Credit Union Branch to support The Branch at Greer High.
This is the second student-run branch of Greenville Federal Credit Union to operate inside a Greenville County Schools high school. The Branch at Greenville High opened in 2016.