Personal

Managing Your Accounts

Online and Mobile Account Management

Account Alerts in Online and Mobile banking
Set up Alerts in Online and Mobile Banking to receive text, email and in-app messages when deposits or debits occur.
Stay informed! Taking control of your finances starts with having a clear picture of your cashflow. Account alerts provide real-time feedback about changes that occur to your account balances, which can help you monitor and prevent potential fraud and help manage your budget. You can set alerts to receive text, email and in-app messages.

How to set up Alerts
After logging in to Online or Mobile Banking, navigate to one of your accounts. Then look for "Alert preferences" in the account menu.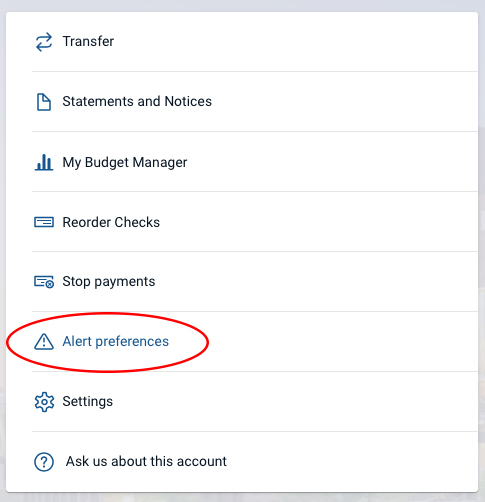 There you can set Balance or Transaction alerts for credits (deposits) or debits (withdrawals). You decide the amount that you want to trigger the Alert, and how you wish to receive the Alert. You can set multiple alerts for your accounts.