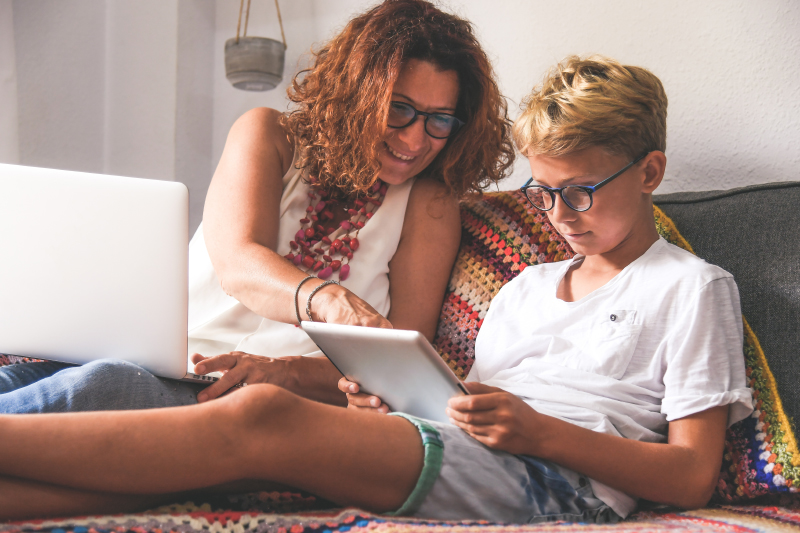 While it may not have the same gravitas as a new car, a checking account represents the same important rite of passage for teens. The earlier your teen opens a checking account, the sooner you can begin teaching them valuable lessons, such as money management and disciplined spending.
Perks of Teen Checking Accounts
Technology is making it easier than ever for teens to manage money, monitor their financial health, and keep up with their checking account balances on the go. A teen checking account can be instrumental in helping them to learn the ins and outs of these types of accounts with the safety net of parental oversight. Plus, with a checking account, today's teens can enjoy the following benefits:
Easy access to funds. Unlike savings accounts that require ATM withdrawals and may have limited online or mobile banking features, checking accounts allow more immediate and easier access to funds.
Debit card. Most checking accounts today rarely use checks. Instead, they use debit cards that allow teens to make purchases in retail stores, restaurants, and online. These are all important skills teens need to learn, along with reconciling their balances to keep up with their money. Debit cards offer greater flexibility when it comes to how teens spend money.
Depositing capabilities. In addition to direct deposit, new features, such as remote deposits via mobile banking apps, can be used to help your teen enjoy faster access to their hard-earned money.
Saving features. If your teen is working their first job, they can use direct deposit and payroll deduction to automate their savings. These tools allow a percentage or set amount from each paycheck to be transferred automatically into their savings account. This will teach important lessons about saving regularly while making the process as easy as possible.
Not only do checking accounts help teach teens essential lessons about managing money, but mobile apps make it easier than ever for them to keep up with their balances.
A Few Precautions
Before you dive in, though, there are a couple of important things to consider.
1. Review all possible fees. This includes monthly fees, ATM fees, minimum balance requirements, NSF fees, and more. Choose an account specifically designed for teens to help them grow and learn to manage money responsibly. Not one that will become a burden or frustration.
2. Make sure your teen has access to mobile banking. This tool makes it easy for them to check their balances, monitor transactions, and manage their accounts from their phones.
It is important to remember that you will need to be a joint owner on your teen's account until they reach a certain age. This means that you are responsible for their actions — and potential mistakes along the way. Use their teen checking account as an opportunity to help them learn and develop positive money skills and habits early.
We're Here to Help!
A teen checking account is a great way to introduce your child to more advanced money management concepts and skills without passing full control over to them.
Please stop by any of our convenient branch locations or call 800-336-6309 to learn more about teen checking and savings accounts. The sooner you begin teaching your child the importance of successfully managing a checking account, the more prepared they will be when they strike out on their own.
Each individual's financial situation is unique and readers are encouraged to contact the Credit Union when seeking financial advice on the products and services discussed. This article is for educational purposes only.