Armed with data demonstrating the credit union difference, twenty-seven credit union advocates representing ten credit unions in North and South Carolina took that message to Capitol Hill in Washington, D.C. November 13-14. Representing Greenville Federal Credit Union were President Paul Hughes, COO Brian Sponaugle, SVP Human Resources Dawn Rumney and 2019 Carolinas Credit Union League Protege Meaghan King.
---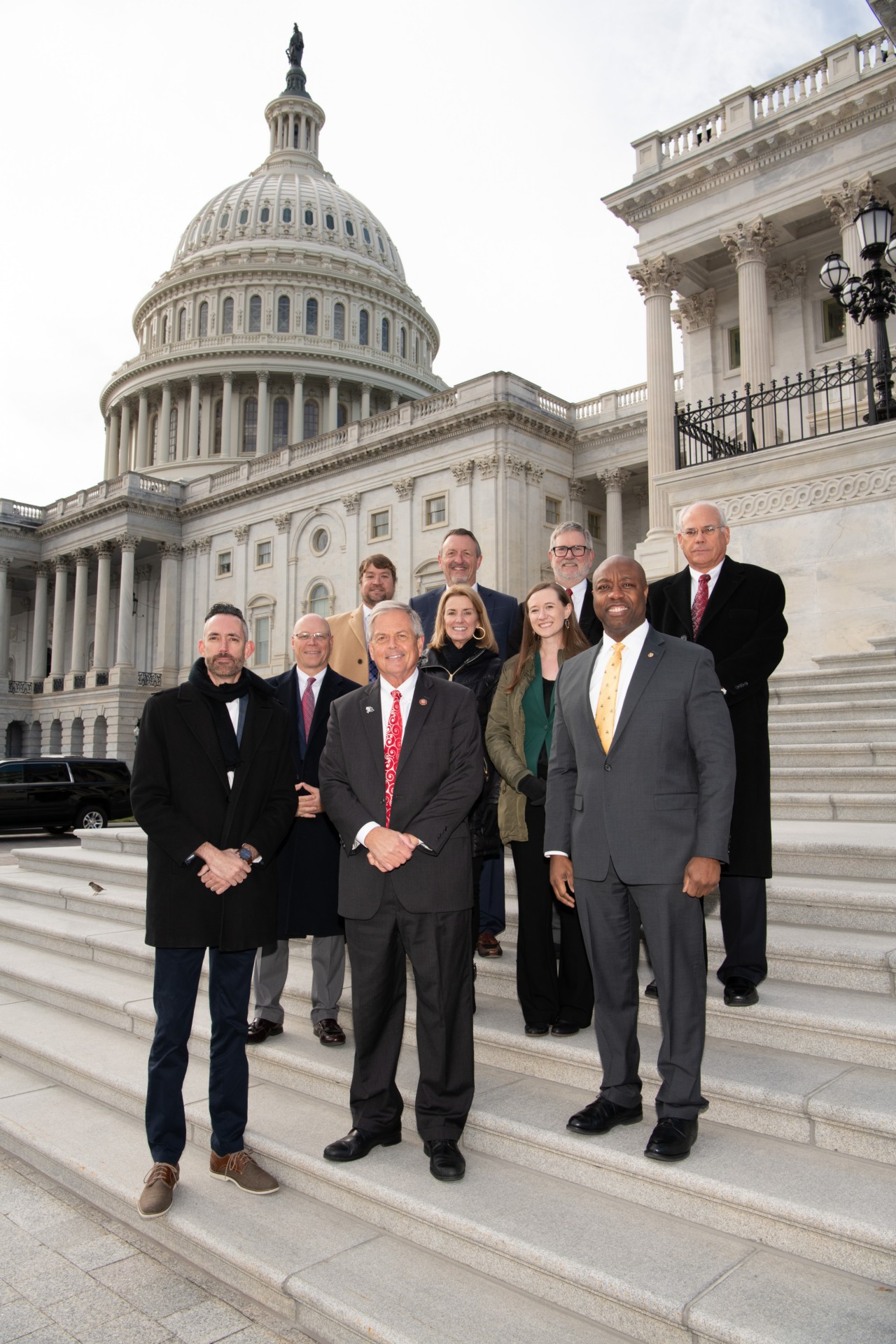 Credit union representatives with Senator Tim Scott and Representative Ralph Norman SC District 5.
---
South Carolina advocates began Hill visits Wednesday afternoon, meeting with staff for Senators Lindsay Graham (R) and Tim Scott (R).
On Thursday, the full group began with breakfast, joined by Congressman Jeff Duncan (R-SC3) and Congressman Mark Meadows (R-NC11). Both commended participants for making the time to visit their delegations, acknowledging that Congress was distracted with impeachment hearings but reiterating the importance of continuing to bring attention to the issues of importance to credit unions.
Following the breakfast, South Carolina participants met with Reps. Joe Cunningham (D-SC1), Joe Wilson (R-SC2), Tom Rice (R-SC7), Ralph Norman (R-SC5), and Jim Clyburn (D-SC6). With Congressman William Timmons (R-SC4) away all month on military duties, the group met with his chief of staff and legislative assistant.
During all of their Hill visits, credit union advocates focused on several issues.
Preserve Credit Unions' Tax Status. Their tax status is critical to the preservation of credit unions and consumer choice. The tax exemption is based on our not-for-profit structure, as well as our mission to promote thrift and provide access to credit for provident purposes. Last year, credit unions delivered $16 billion in benefits to consumers, while banks got $26 billion in tax breaks and recently reported record profits for their shareholders.
Secure Data and Protect Consumer Privacy and Cybersecurity.Data security and privacy risks are much deeper than merchants and financial institutions and must be treated as national security priorities.
Question Current Expected Credit Losses (CECL) Standards.Application of the Financial Accounting Standards Board's (FASB) CECL methodology to credit unions is inappropriate and an unfunded mandate by a non-governmental entity.
Balance the Bank Secrecy Act/Anti-Money Laundering (BSA/AML) Statutory Framework. Carolinas credit unions support efforts to track money laundering and terrorist financing, but also believe it is important to strike the right balance between the compliance costs to financial institutions, like credit unions, and the benefits to the federal government.
Support the House Version of FY2020 National Defense Authorization Act. Keep the best interests of service members in mind, keeping military bases free from for-profit and predatory financial institutions. In NDAA conference proceedings, support House provisions and omit the expanded allowances in Section 2821 of the Senate version.
"In Advocacy, we are diligent in preparing for productive meetings with legislators. Our work leading up to the trip and while in Washington was no different," Carolinas Credit Union League President Dan Schline noted. "We are pleased that, despite the particular distractions Congress and office staff face from one week to the next, we again delivered the positive, valuable messages of credit union service to and concern for North and South Carolina consumers."
Greenville Federal Credit Union is part of the Carolina's Credit Union League and the Credit Union National Association (CUNA), a national organization based in Washington, D.C., and Madison, Wisconsin. These organizations work together to provide legislative support to all credit unions and coordinate congressional efforts at State and Federal levels. Learn more.
Source: Carolinas Credit Union League