About

In the Community

Thanks and Giving Grants 2021


Greenville Federal Credit Union established Thanks and Giving Grants (TGG) as part of its charitable giving plan in 2018. The TGG program is designed to identify and provide funding support for community-based 501(c)(3) organizations that promote youth, education, community and economic assistance or relief in local areas across Greenville County. The 2021 Thanks and Giving Grants program will award five grants of $10,000 each to non-profit organizations committed to developing and implementing programs designed to improve prosperity in local communities within Greenville County.

Eligibility and Program Criteria:
Eligible organizations must hold a current tax-exempt status as a charity under Section 501(c)(3) of the Internal Revenue Code, be physically located in Greenville County, and directly benefit the local community. Eligibility considerations will be made for organizations located outside of Greenville County if the proposed project will be implemented and funding used solely within Greenville County. Successful proposals for projects funded by a TGG should be able to clearly demonstrate how the implementation of their proposed initiative will benefit and support education, improve child welfare, increase community and economic assistance or relief in the local community.
It is the expectation that these grants will be awarded to new projects within a community; however, the selection committee will have the flexibility to alter the criteria if it is deemed necessary. All projects should be implemented within 12 months of receiving TGG funding. Only one project per organization will be considered. Considerations will be made for 501(c)(3) organizations proposing funding of grants previously received.
A panel representing Greenville Federal Credit Union will review applications and select the five recipients based on a set of criteria established by the TGG committee. The panel is comprised of five individuals diverse in age, gender, ethnicity, and life and work experience.
Among the elements the committee will consider are:
Impact – What is the outcome of the project and how will it create prosperity within the local community? What will be measured to show success and what will the measurements of a successful project be? Whom will it benefit? What does the project seek to do?
Need – Geography and economy will be taken into account when considering the award of funds. Will this project address a long-term community need or a crisis, an emerging need or provide a new approach to a community need? Is this community in a position where they could fund this initiative without this grant? Is this a community that has typically struggled to increase local prosperity?
Ability to Implement – How elaborate is the project or idea? Are there local champions? Does the organization have the capacity (staff, volunteers, partners, and time) to implement the project? How does the organization plan to implement it? Is this primarily a volunteer effort or is it driven by an organization with dedicated staff?
Sustainability – How long will the project last? If it is a long-term project what is the strategy keeping it operational? If the project is a physical project will it need to be maintained and if so by whom? If it is an event or festival, is there a plan to continue beyond the one year of the grant funding? It is important for the project to have some permanence and be renewable.
Availability of Additional Funding – If the overall project budget exceeds the amount of TGG funding, what are the plans for generating additional funding support?
Ability to be Replicated – Is this a project that can be replicated in concept by other communities across Greenville County?
Efficiency – The project will be implementable within 12 months and will use funds efficiently and effectively.
Application:
Interested parties should designate an agent who is familiar with the project to correspond with the TGG committee during the application process.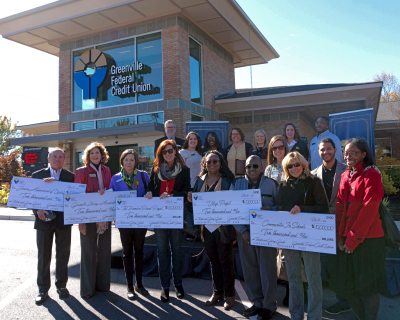 2018 Thanks and Giving Grants recipients.
---
Call for Applications
Applications will be received from July 1 through September 17, 2021. Finalists may be asked to present a brief summary of their project before grant recipients are selected.
---
Grants Presentation and Celebration Event, 11/18
On Thursday, November 18, 2021, the five Thanks and Giving Grants recipients will be announced during a special presentation and celebration lunch for members, special guests, lawmakers and local dignitaries at the credit union's Wade Hampton Boulevard location.